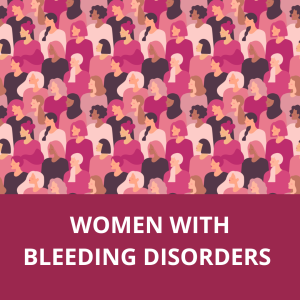 Women can and do have bleeding disorder. Historically women experiencing symptoms linked to bleeding disorders have been dismissed. Female patients are continuously gaslighted about their physical and mental health. While bleeding disorders affect both men and women, these conditions pose unique problems for women during menstruation, pregnancy, and labor. A lack of, or incorrect diagnosis of a bleeding disorder can be dangerous, even deadly. Black and brown women have higher rates of non-diagnosis and misdiagnosis. Recently more attention and effort has been given to understand and care for women with bleeding disorders. Listening to your body and practicing self advocacy is key to attaining the right diagnosis and medical care. Pay attention to your symptoms and talk to your doctor if you have the following symptoms.  
Signs and symptoms include: 
Bleeding symptoms similar to symptoms of a family member with a bleeding disorder

 Heavy menstruation or

Menorrhagia (bleeding for more than 7 days) 

Passing clots bigger than a quarter during menstruation

Easy bruising
The most common bleeding disorder in women is VWD, but women can also have hemophilia.  If you have symptoms of a bleeding disorder, it is important to get a proper diagnosis and treatment from a specialist, called a hematologist. If you are concerned there are also national and state organizations that have wonderful resources and information including, The National Hemophilia Foundation and The Hemophilia Federation of America. EPSrx is a trusted partner of the bleeding disorders community and is here to help. See our website for extra information. También hablamos español.